The Spring Festival, also called Chinese New Year, is the biggest and most important holiday for Chinese people worldwide. This year, Chinese New Year marks the beginning of the year of the Rabbit.
LC Chinese School will host the Chinese New Year Celebration on Saturday, January 14, 2023.
The activities mainly focus on the culture of the Chinese Spring Festival. All participants/Chinese culture lovers will learn about the Chinese Spring Festival's culture through experiencing activities.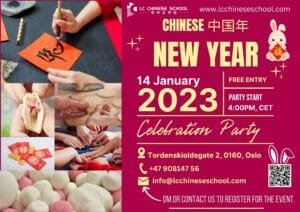 Activities:
Introducing Chinese New Year
Making red envelopes
Making Chinese lanterns
Making Chinese dumplings
Writing Spring Festival couplets
Paper cutting, etc.
Address: Mesh, 8th floor, Tordenskiolds gate 2, Oslo
Time: Saturday, January 14, 2023
Event Start: 4:00 p.m. CET
Event End: 5:30 p.m. CET
(Doors open at 3:00 p.m. CET. Phone us when arriving)
Contact us to register for the event.
Phone Number: (+47) 90814756 
Email Address: info@lcchineseschool.com
www.lcchineseschool.com
If you love Chinese culture and want to learn more, you are welcome to join us in celebrating Chinese New Year 2023, the Year of the Rabbit. People who cannot come to our school in Oslo can participate online. 
Sign up and join us in celebrating the Chinese New Year.
It will be more fun to have you join!