Several common motion verbs in Chinese can express both movement and direction. Naturally, they can be used either transitively or intransitively and fall into two types.
(1) The first group consists of the two basic verbs 来 
lái
 'come' and 去 
qù 
'go': 
你来。Nǐ lái. (You come.)
我去。Wǒ qù. (I go.)
他们不来。Tāmen bù lái.(They don't come.)
我们不去。Wǒmen bù qù. (We are not going.)
The following are some ways that these can be utilized to set things in motion.
我们去学校。Wǒmen qù xuéxiào. (Let's go to school.)
你来广州。Nǐ lái guǎngzhōu. (You come to Guangzhou.)
他们去奥斯陆。Tāmen qù àosīlù. (They go to Oslo.)
(2) The verbs 来 lái and 去 qù are commonly used before other words fall under the second group to denote movement in specific directions.
When combined with moving away from the speaker qù 去, they indicate movement in the direction of the speaker lái 来.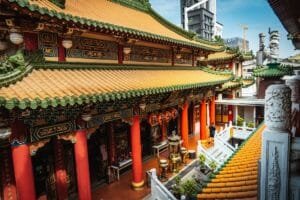 (a) 上 shàng 'upwards': 
我上来了。Wǒ shàngláile. (I'm coming up.)
他下去了。Tā xiàqùle. (He went down.)
我上车了。Wǒ shàng chēle. (I got in the car.)
他下车了。Tā xià chēle. (He got out of the car.)
Always place the location object before the verb and either the 来 lái or the 去 qù in its transitive form.
她上楼来了。 Tā shàng lóu lái le. (She came upstairs.)
他上楼去了。 Tā shàng lóu qù le. (He went upstairs.)
Note: The particle 了 le completes these sentences and performs the dual functions of an aspect marker and a sentence particle.
(b) 下 xià 'downwards': 
妈妈下来了。Māmā xiàláile. (Mom is down.)
妈妈下去了。Māmā xiàqùle. (Mom went down.)
(c) 过 guò 'across or over a distance': 
请过来一下。Qǐng guòlái yīxià. (Please come over here.)
我过去一下。Wǒ guòqù yīxià. (I'll go over there.)
车要过马路。Chē yàoguò mǎlù. (The car has to cross the road.)
(d) 回 huí 'returning to a place: 
他回家了。Tā huí jiāle. (He came home.)
我回国了。Wǒ huíguóle. (I'm back home.)
我回家乡过暑假。Wǒ huí jiāxiāngguò shǔjià. (I go back to my hometown for the summer vacation.)
(e) 进 jìn 'entering': 
经理走进会议室。Jīnglǐ zǒu jìn huìyì shì. (The manager walks into the conference room.)
妈妈走进厨房。Māmā zǒu jìn chúfáng. (Mom went into the kitchen.)
我走进房间。Wǒ zǒu jìn fángjiān. (I go into the room.)
出 chū 'exiting': 
我出来了。Wǒ chūláile. (I am going out.)
车子开出车库。Chēzi kāi chū chēkù. (The car drives out of the garage.)
学生走出教室。Xuéshēng zǒuchū jiàoshì. (Students walk out of the classroom.)
(g) 起 qǐ 'directly upwards': 
太阳升起来了。Tàiyáng shēng qǐláile. (The sun rised up.)
把衣服晾起来。Bǎ yīfú liàng qǐlái. (Hang the clothes up.)
(h) 到 dào 'arriving': 
我到家了。Wǒ dàojiāle. (I arrived home.)
我到公司了。Wǒ dào gōngsīle. (I arrived at the company.)
我到奥斯陆了。Wǒ dào àosīlùle. (I arrived in Oslo.)