Staying in a Chinese homestay may be one of the best decisions you'll ever make. If you want to learn about this beautiful country and get a taste of real China, staying at a homestay is an experience you'll never forget. This is a great choice. And just like an Internship in China, it is a fantastic way learn China!
Why Should I do a Homestay in China?
A homestay in China involves spending the day and night with a local family. You will be able to connect with people and learn about their lives away from the tourist traps, providing you with a fresh perspective on China.
In China, you may enjoy unique experiences whether you stay with a local family in the city or the countryside.
What Can I Expect from a Homestay?
You can chat with and learn more about a family, ask them questions, see how they live their daily lives and share meals with them.
The Chinese are known for being gracious hosts and will treat you very well. Eating as a family is a cherished event in China. You'll have a rare chance to compare how Chinese food is made at home and how it is made in restaurants. You can even volunteer to assist in the kitchen!
In Chinese Communities
People in Chinese villages put beautiful tiles and decorations on their front doors, like red and gold patterns, to bring luck and money. Depending on the season, corn or chile may dry outside of homes, while ducks and hens often roam the streets.
The rise in living standards and the fast growth of the economy have helped families in rural China. You may inquire about this with your host family, and you'll learn exciting things and better understand how China is changing.
Cities in China
Staying with a family in Guangzhou will teach you about contemporary China. The bulk of people in cities lives in modern high-rise apartment buildings. However, ancient parts may be seen in both Beijing and Shanghai. Staying in a historic home in Beijing might highlight your vacation. If you want to see the real Shanghai, you can't miss the chance to stay in the French Concession or a historic Lilong mansion.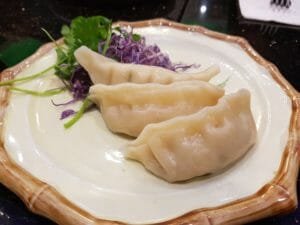 What Exciting Activities Can You Enjoy During a Homestay?
It is dependent on where you choose to conduct your homestay. Making Chinese dumplings as a family is a common hobby in northern China. You may learn how to make zongzi by staying with a family in Guangzhou, southern China. In the Tibetan highlands of western China, making traditional yak butter tea can be a fun family activity.
What Are the Cultural Expectations of a Homestay?
The first ritual is to provide a gift; if you don't have anything to bring from home, some fruits will do. Second, taking your shoes off when you enter a house is polite, so do that if you're staying at a homestay.
Although Chinese dinner etiquette is formal, it should be less at home. It would be helpful if you sat where you were directed at mealtimes and followed the directions of your hosts. Remember that asking for more food can make your host feel terrible if you leave your chopsticks on your plate. Your Chinese host must ensure that you are adequately nourished. As a result, they should take excellent care of you.
Participate in Our Homestay Program
Please get in touch with us for more information about our Homestay service in China! We've worked with our Guangzhou host families for many years, and they know how to help and deal with international students studying in China, even if they don't speak Mandarin.
You can get more information about our Homestay program here.